Marketable – Ep. 3 – Elevator Pitch: "Fargiveness"?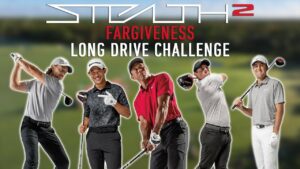 About the episode
Elevator Pitch episodes are quick episodes featuring one of our beloved hosts opining on something that caught their attention in the marketing world. This episode features host and golf-aholic Jeff Barry talking about a recent TaylorMade campaign that was a real hole-in-one. See what we did there?
Agenda
– Discussion of the golf industry during Q1
– Analysis of TaylorMade's Forgiveness campaign for their new Stealth Two driver
– Comparison of TaylorMade's marketing approach with other golf brands
Takeaways
Takeaway 1: Tailormade's "Forgiveness" campaign successfully combines two important product attributes while keeping the message simple and memorable.
The marketing campaign for Tailormade's new Stealth Two driver, called "Forgiveness," combines the words "far" and "forgiving" to create a unique and memorable term. Jeff highlights the effectiveness of this approach, saying it "works because it's part of the story. It's not just someone saying the same word to you over and over again." By focusing on a single, powerful message, Tailormade sets itself apart from competitors who may struggle to communicate their product benefits clearly.
Jeff also praises the clever use of repetition in the campaign's 30-second spot, featuring golf stars Tiger Woods, Rory McIlroy, and Colin Morikawa. "They're really laying it in in a way that's fun and makes sense within these three people who are standing here talking about this product that's working really well," says Jeff.  This entertaining approach helps to reinforce the message while keeping viewers engaged.
Takeaway 2: The simplicity and clarity of Tailormade's "Forgiveness" campaign is more effective than competitors' complex storytelling.
In contrast to Callaway's more complex storytelling around its Paradigm Driver, Tailormade's "Forgiveness" campaign is clear and straightforward. Jeff notes that Callaway's approach feels "so much more complicated," making it difficult to understand the product's unique benefits. On the other hand, Tailormade's campaign is "very clear, it's straightforward, and it's so interesting that they found that clarity, even though they've made up a word to do it."
Tailormade's ability to communicate its product benefits in a simple, engaging way allows it to stand out in a crowded market. Jeff encourages listeners to check out the 30-second spot, praising the team at Tailormade for rolling out something "building on momentum that they had last year in a very new way and very fresh, very quick way."
Takeaway 3: Focusing on one key message in video marketing leads to greater effectiveness and viewer engagement.
Jeff emphasizes the importance of keeping video marketing focused on a single message. "Videos work best when they're about one thing. So many times we'll see videos that aren't as effective as they could be because there's too much information in it. You have a short time period and it's overload for the viewer who's interacting with it," Jeff explains. By concentrating on the concept of "Forgiveness," Tailormade's campaign delivers a powerful message without overwhelming its audience.
This approach allows Tailormade to create a memorable and engaging marketing campaign that effectively communicates the benefits of its new Stealth Two driver. As Jeff concludes, "It's checked so many boxes and worked so well that I thought, that little microcosm of something to point out because it hits on so many levels."
Insights surfaced
1. TaylorMade's Forgiveness campaign effectively combines two important attributes of the product (distance and forgiveness) into one word, making it memorable and unique.
2. The campaign's 30-second spot featuring Tiger Woods, Rory McIlroy, and Colin Morikawa is engaging and well-written, with the word "forgiveness" repeated multiple times in a natural and fun way.
3. TaylorMade's approach to marketing the Stealth Two driver stands out compared to competitors, who often get into the technical details of their products.
Key quotes
1. "They've taken two words and kind of smashed them together, which are attributes of what the product does. You hit it far, and it's very forgiving. They've put those together, and they call it forgiveness."
2. "They've hit so many boxes with this 30-second spot. I just thought it was really remarkable."
3. "Tailormade, Titleist, Callaway, Ping, Cobra, they're all saying that this year's driver does the same thing. But Tailormade and their team has been able to find this way in their creative to really set themselves apart."
4. "They've been able to jump off of what was built last year and tell us a new story for essentially a product that looks exactly the same, but they've done it in a way that's interesting, quick and direct."
5. "This tailormade campaign, this forgiveness campaign, is very clear, it's straightforward, and it's so interesting that they found that clarity, even though they've made up a word to do it."