Employee Testimonials:
Create a Compelling Brand Narrative and Attract Top Talent
We've noticed lately that many organizations for a way to stand out from the competition and attract top talent. Employee testimonials are a powerful tool for creating a compelling brand narrative and showing potential employees why your company is the best choice for them. By leveraging the power of employee testimonials, HR professionals can showcase their company's culture, highlight career paths, build trust, and create a positive image that will draw in the best talent. But it's not just about recruitment. Employee testimonials can be valuable to product marketing teams, as well, as they enrich a brand's narrative
Benefits of Employee Testimonials for HR Professionals
Employee testimonials are an invaluable asset for HR professionals looking to draw in top talent.  Companies can portray their unique culture, highlight product successes and customer service excellence, as well as detail the various career paths available within the organization. This allows potential job seekers to gain an honest perspective on what it is like to work at the company and instills confidence in your business.
Moreover, employee testimonials provide invaluable insight into how team members feel about working for the business – from how they interact with each other and customers alike – allowing organizations to identify areas that may need improvement in order to create an environment conducive to success both internally and externally.
Finally, having access to positive accounts of work experience at your company helps cultivate a strong employer brand which establishes an understanding of what it means for someone working there before submitting an application or coming into interview – something that is essential when trying to stand out from competitors in today's competitive market place.
How Does Notice Pictures Create Engaging and Authentic Employee Testimonial Content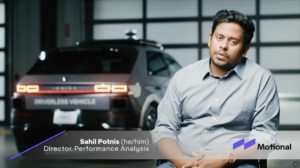 The first step is to encourage employees to share their stories. Many of the HR teams we work with already have ideas for great stories that should be showcased, but it doesn't hurt to cast a wider net for those hidden gems you might not know about. This can be done through internal communications such as emails, newsletters or team meetings. Your company's intranet or social media channels might also be a good way to source great voices.
Next, we handle the capture of the voices that our clients have identified. We don't like teleprompters or prepared remarks, so we always recommend allowing us to just sit down and have a conversation with each employee while the cameras roll. Making people comfortable in the interview environment is something we feel we do better than anyone else, and the results are exponentially more impactful and heartfelt than anything that could be scripted.
After that, we take all that great material, and craft it into as many assets as we can.  A day of capturing employee testimonials can yield content that lasts years, and we always provide interview transcripts, so that you know all the amazing material you can take advantage of.  We can combine numerous voices and b-roll into a 3-minute video for the Careers section of your web site or make short cuts of each individual's best moments. We've had clients make a short video for each of their core values, utilizing to great effect the organic sound bites we captured, so the values aren't just words on a page; they truly come to life. The sky's the limit!
Harnessing the Power of LinkedIn for Recruiting
Our clients are leaning heavily into the potential of LinkedIn to attract top talent. Of course, we see these videos playing well across platforms, but LinkedIn is the place people go to when it comes to networking and job hunting, so it's the most natural place for company culture content to be featured.  The challenge, of course, is how do you rise above the fray that is a social media feed?  The fact is, there's no better way to grab a potential hire's attention than through a powerful video. It's informative, visually and emotionally stimulating, and highly consumable.  It's the fastest, most effective way for you to showcase who you are as a company to the most desirable talent.
But don't sleep on the potential for this content to be leveraged in other ways.  In the same way it's valuable for recruitment, these stories are great for internal comms. They build company morale and pride, and for the team members being featured, it gives them a sense of being seen and appreciated.  Finally these assets can even be valuable from a traditional marketing perspective.
Employee testimonials are at the heart of your brand narrative

Employee testimonials are a valuable asset for forming an impactful brand narrative, which can serve both recruitment but also product marketing. They offer an honest viewpoint of what working at the business is like, and can be utilized to tell a story about the company's culture, display successes in customer service or product creation.
We help our clients identify the best employee voices that correspond with the company's values, those who are passionate about the work they're doing. This will guarantee they accurately reflect strengths as well as draw in potential talent with similar qualities, but these assets can also serve to sell your product or service. When potential customers see and hear from the people that are actually involved in creating the product they're investigating, it creates more of a personal connection, and humanizes the entire enterprise.  These days, customers want to feel good about the brands they're supporting, so showcasing the values and mission behind the product they're purchasing can be just as much of a selling point as the product itself.
Conclusion
Employee testimonials are something we always recommend to clients because of their value-add is multi-layered.  It's content that can live across multiple platforms, though most obviously useful on LinkedIn.  It can serve myriad purposes from recruitment to company morale, and even marketing.  Best of all, the content can be repurposed as your needs evolve, meaning the investment you put into producing the material continues to pay off for years to come.